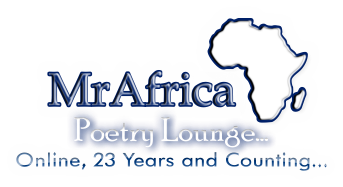 MrAfrica Poetry Lounge!
About Us
First off, thanks for visiting this site. Mr. Africa Poetry Lounge was created so that talented
African-American
poets can receive the exposure they deserve. If you know of any poet deserving of recognition, do tell them about this site. One day we fully expect to become the leading African-American poetry site on the Net.
The Man Behind this Site?
Well, that's me. My name is Calvin Thomas Adams III. I'm thirty-three years old, and currently living in North Carolina. I update this site on a regular basis, featuring the work of famous and lesser-known African-American poets.
If you would like to see my pictures, click here:
Calvin T. Adams ||| - aka. Mr. Africa NEW ( 2010 )
<---------
Why Build such a site?

Why Not? I have searched extensively for poetry sites that give voice to the African-American culture and experience. Sadly, there are not many. I purposed to build a site where we as Black people could come and interact with one another, celebrate our African-American history and experience, while enjoying the literary talent our people have to offer. Before you leave, feel free to visit and post a message on our Poetry Board. This board is an exciting community of poets who support and nurture the talent of other fellow poets in an atmosphere of creativity, warmth and friendship.
Do enjoy your visit here.
Have a nice day.
Sincerely,
C.T.Adams_///

Webmaster:
mrafrica@ctadams.com