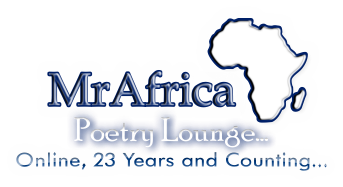 MrAfrica Poetry Lounge!
Copyright
Regards to the creative expressions by all writers and poets at under the jurisdiction of Mr. Africa Poetry Lounge are not necessary the opinion of
Ctadams.com
owner/staff...
Submission of involving all creative endeavors by writers and poets are solely the responsibility regarding copyright laws, Mr. Africa Poetry Lounge is exonerated from copyright violations...
Any redistribution or reproduction of part or all of the contents in any form is prohibited other than the following:
*
you may print or download to a local hard disk extracts for your personal and non-commercial use only.
*
you may copy the content to individual third parties for their personal use, but
only if you acknowledge the website
as the source of the material.
You may not, except with our express written permission, distribute or commercially exploit the content. Nor may you transmit it or store it in any other website or other form of electronic retrieval system.
With that, still have a question/comment regarding our '
Copyright
' information, feel free to contact us below;
Staff@Ctadams.com
(------
Have a nice day.
Sincerely,
C.T.Adams_///