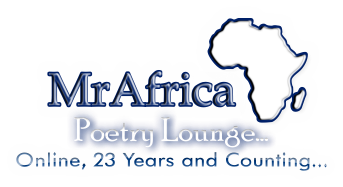 MrAfrica Poetry Lounge!
Famous Black Poets Section (Part 2)
Here you will find poetry written by famous people of African
American descent. The poetry here is vast in subject matters.
It speaks directly to the journey, challenges, love, triumphs,
and spirit of a people. Relax and joy your visit!
Miscellaneous Poems:
Click on the Links Below
Maya Angelou
Alone
Equality
Still I Rise
Glory Falls
The Gamut
Country Lover
Passing Time
Phenomenal Woman
To a Freedom Fighter
I Know Why The Caged Bird Sings

Men
Africa
Paeans
Refusal
The Lesson
Human Family
Remembrance
When You Come
Touched by an Angel
Million Man March Poem
A Brave and Startling Truth
These Yet to be United States
THE BLACK FAMILY PLEDGE

Kin
Prisoner
Recovery
Televised
INSOMNIAC
The Traveller
Son to Mother
Ain't That Bad?
Our Grandmothers
Preacher, Don't Send Me

Awaking in New York
On the Pulse of Morning

Alice E. Furlong
Suicide
Awaiting
Possession
Destruction
Unfulfillment
Laurel Leaves
The Sea's Warning
Riches and Poverty
When Love Is Laid Away

W.E.B. Du Bois ~ New ~
SUEZ
Unrest
Untitled
STRIVING
Black Men
EL DORADO.
AVA! MARIA!
The Quadroon
GHANA CALLS
In God's Gardens
The Song of the Smoke
My Country 'Tis of Thee
THE WOMAN IN BLACK.
THE SONG OF AMERICA.
A HYMN TO THE PEOPLES

James Baldwin
Amen
Untitled
The giver (for Berdis)
Munich, Winter 1973 (for Y.S.)
Le sporting-club de Monte Carlo (for Lena Horne)

James Baldwin - 2 ~ New ~
For A.
YOUTH
For EARL
PARADISE
Imagination
Judgment Day
The darkest hour
Mirrors (for David)
Black Girl Shouting
A Lover's Question
BALLAD (for Yoran)
3.00 a.m. (for David)
Some days (for Paula)
Guilt, Desire and Love
Song For The Shepherd Boy
Conundrum (on my birthday) (for Rico)
A lady like landscapes (for Simone Signoret)

Camille Dungy
Ark
Pity
First Fire
soldier's girl
Daisy Cutter
Emergency Plan
Dinah in the Box
Association Copy
Almost Like They Wanted It
She Liked the Moving Things Best

Clarence Major
Frenzy
Weather
Honey Dripper
The Doll Believers
Unknown Presence
Sand Flesh and Sky
Waiting for Sweet Betty
Revelation at Cap Ferrat
The Painting After Lunch
Waiter in a California Vietnamese Restaurant

Wole Soyinka
Night
Abiku
Dedication
I think it rains
Civilian and Soldier
Telephone Conversation
IN THE SMALL HOURS
Fado Singer for Amalia Roderinguez
Mohammed Ali At The Ring-side, 1985
For FRANCIS ABIOLA IRELE - "Olohun-Iyo"

Harryette Mullen
Any Lit
Way Opposite
Shedding Skin
[up from slobbery]
The Fire This Time
Page 35 / the essence lady
[marry at a hotel, annul 'em]
[if your complexion is a mess]
Page 34 / if your complexion is a mess
WIPE THAT SIMILE OFF YOUR APHASIA

Harryette Mullen - 3
Black Nikes
[Kills bugs dead.]
From Tanka Diary
[Of a girl, in white]
We Are Not Responsible
[it's rank it cranks you up]
Sleeping with the Dictionary
[go on sister sing your song]
Page 5 / sun goes on shining
Muse & Drudge [why these blues come from us]

Frances E.W. Harper
Going East
Blessed Hope
Learning to Read
The Slave Mother
The Slave Auction
A Double Standard
I Stand at the Door
God's Little Children
Songs for the People
Bible Defense of Slavery

Esther Popel
Theft
Credo
Bagatelle
Flag Salute
Ditch-Digger
October Prayer
Little Grey Leaves
Grant Me Strength
Night Comes Walking
Reach Down, Sweet Grass
Blasphemy--American Style

Bob Kaufman
Believe, Believe
Walking Parker Home
A Terror is More Certain . . .
[THE NIGHT THAT LORCA COMES]
O-Jazz-O War Memoir: Jazz, Don't Listen To It At Your Own Risk

Nikki Giovanni
Love Is
Choices
Nikki-Rosa
Kidnap Poem
I'm Not Lonely
And I Have You
A Poem Of Friendship
A Summer Love Poem
I Wrote A Good Omelet
Cotton Candy On A Rainy Day

Rain
Poetry
Habits
Crutches
Sky Diving
Life Cycles
When I Die
For Saundra
Winter Poem
All I Gotta Do
You Came, Too

Mari Evans
The Rebel
I am a Black Woman
Where Have You Gone
Who Can Be Born Black?
. . . And the Old Women Gathered (The Gospel Singers)

Rita Dove
Used
Afield
Rusks
History
DayStar
The Boast
Hade's Pitch
Adolescence II
Primer For The Nuclear Age
My Mother Enters the Work Force

Exit
Dusting
Vacation
Wiring Home
Golden Oldie
Heart to Heart
American Smooth
Borderline Mambo
The Fish in the Stone
Lady Freedom Among Us

Would you like to submit a Poem? Click Here
Next Page ( Part "3" ): Click Here
<----> SEND THIS PAGE TO A FRIEND! <---->