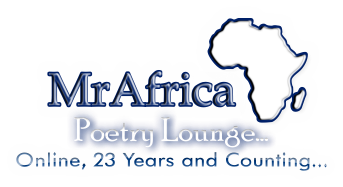 MrAfrica Poetry Lounge!
Famous Black Poets Section (Part 6)
Here you will find poetry written by famous people of African
American descent. The poetry here is vast in subject matters.
It speaks directly to the journey, challenges, love, triumphs,
and spirit of a people. Relax and joy your visit!
Miscellaneous Poems:
Click on the Links Below
Quincy Troupe
Untitled
Avalanche
Snow & Ice
Poem For My Father
Poem Reaching For Something
After Hearing a Radio Announcement
The Day Duke Raised: May 24th, 1974

Amnesia #1
Sonic Fireflies
Amnesia #3: Photographs & Videos

Gladys May Casely-Hayford ~ New ~
Poem
Lullaby
A Poem
Mammy
Nativity
Creation
Baby Cobina
The Serving Girl
The Palm Wine Seller

Nikky Finney ~ New ~
Heirloom
I Feel Good
The Clitoris
The Aureole
O' Noblesse O'
Sign Language
The Afterbirth, 1931
The Girlfriend's Train
The Condoleezza Suite [Excerpt]
The Lyric Theatre: Lyceum of Dreams

Patricia Smith
Siblings
Sweet Daddy
Hip-Hop Ghazal
Prologue-And Then She Owns You
When Black Men Drown Their Daughters

Patricia Smith - 2 ~New ~
Medusa
Undertaker
Always in the Head
They Romp with Wooly Canines
The Sun, Mad Envious, Just Wants the Moon

Kevin Young
Errata
Negative
Cadillac Moon
Song of Smoke
I am Trying to Break Your Heart

Effie Lee Newsome
Bats
Sunset
TURKEY
IN WINTER
Morning Light
Peacock Feather
O Autumn, Autumn!
The Bronze Legacy
The Bird in the Cage
GLADIOLA GARDEN
O Sea, That Knowest Thy Strength

Joseph S. Cotter, Jr.
A Prayer
Rain Music
Supplication
And What Shall You Say?
Is It Because I Am Black?

George Marion McClellan
To Theodore
The Feet of Judas
Dogwood Blossoms
A January Dandelion
A Butterfly In Church

Carolyn Marie Rodgers
Testament
Breakthrough
Prodigal Objects
Food for Thought
East of New Haven
From Space to Time
Knowing the Difference
Poem for Some Black Women
In The Shadow of Turning: Throwing Salt
It Is Deep (don't never forget the bridge that you crossed over on)

Gloria Wade Gayles
Black Men
Loving Again
Heartwounds
Prince Albert Indeed: An Epitaph for My Uncle

Forrest Hamer
Pica
Grace
Lesson
Middle Ear
Crossroads
Getting Happy
Down by the Riverside
Charlene-n-Booker 4ever
A dull sound, varying now and again
13 Suppositions about the Ubiquitous

Alice Walker
Gray
WHO ?
We Alone
Expect Nothing
I Said to Poetry
EACH ONE, PULL ONE
The Old Men Used to Sing
THEY WHO FEEL DEATH
When Golda Meir was in Africa

June Jordan
Poem for Bob
These Poems
If You Saw a Negro Lady
One Minus One Minus One
Poem for South African Women
Poem on the Death of Princess Diana
For Alice Walker (a summertime tanka)
What Great Grief Has Made the Empress Mute
Poem Against the Temptations of Ambivalence
The Talking Back of Miss Valentine Jones: Poem # one

from Who look at me?
Poem about My Rights
What Would I Do White
Alla Tha's All Right, but
Poem about Police Violence

Ai
Salome
The Kid
Disregard
Cuba, 1962
Conversation
Woman to Man
Motherhood, 1951
Nothing But Color
Grandfather Says
Twenty-year Marriage
Riot Act, April 29, 1992
Interview with a Policeman

Killing Floor
Passing Through
Guadalajara Cemetery
She Didn't Even Wave
Talking to His Reflection in a Shallow Pond

Would you like to submit a Poem? Click Here
Next Page ( Part "7" ): Click Here
<----> SEND THIS PAGE TO A FRIEND! <---->