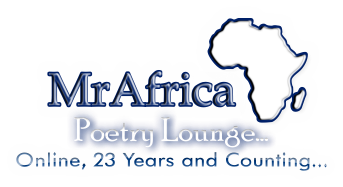 MrAfrica Poetry Lounge!
Famous Black Poets Section (Part 7)
Here you will find poetry written by famous people of African
American descent. The poetry here is vast in subject matters.
It speaks directly to the journey, challenges, love, triumphs,
and spirit of a people. Relax and joy your visit!
Miscellaneous Poems:
Click on the Links Below
Angela Jackson
Angel
Strolling
Angelhair
The Gulf of Blues
Miz Rosa Rides the Bus

Angela Jackson - 2 ~ New ~
Angelhair
Mules and Women
The Love of Travelers
More Than Meat and Raiment
Woman Watches Ocean on a Reef through, etc.

Jill Scott
Life
Envy
Music
Words
Selfish
Radio Blues
We the People
A Poet's Home
Old School Lovin'
It's the Little Things
Dis Niggah (for Leslie)
Untitled #1 (Love Sucks)
Perms, Hot Combs, and Curlers
The Downfall of a North Philly Freak
Young Buck Lovin' on the Kitchen Floor

Vievee Francis
Taking It
Inevitability
Given to Rust
Beast and Beauty
Like Jesus to the Crows

Vievee Francis - 2 ~ New ~
Ars Poetica
White Mountain
Why I Don't Wait
Another Antipastoral
I've Been Thinking about Love Again

Sherley Anne Williams
Flo Show
I see my life
Say Hello to John
A Pavonine Truth
Listen to the drum
If he let us go now
The Peacock Song
Any Woman's Blues
This a Rap on Yo Do'
c/o Ambush c/o Mike
A Walk into the Soft Soft
Communion in a Small Room
For Ronald King Our Brother
Blues is Something to Think About
Lines between Seekonk and Fairhaven
This Is a Sad-Ass Poem for a Black Woman, etc.

Amanda Gorman
LIFE
& SO
CALL US
ALARUM
CLOSURE
COMPASS
GOOD GRIEF
SCHOOL'S OUT
THE SHALLOWS
ARBORESCENT I
SHIP'S MANIFEST
THE HILL WE CLIMB
THE UNORDINARY WORLD
PRACTICE MAKES PEOPLE
THERE'S NO POWER LIKE HOME

Tyehimba Jess
Mercy
What Marked Tom?
Blind Boone's Vision
Hagar in the Wilderness
martha promise receives leadbelly, 1935

Tyehimba Jess - 2 ~ New ~
Blind Tom plays on.
"leadbelly's lessons"
Charity on Blind Tom
Freedsong: Dream Song
Blind Boone's Pianola Blues

William S. Braithwaite
Del Cascar
This is My Life
It's a Long Way
The House of Death
Turn Me to My Yellow Leaves

Alicia Keys
6:33 a.m.
mind sex
still water
damn you!
mr. jealousy
is it insane?
love in chains
beckoning green
gold of johannesburg
in my search for heaven

Alicia Keys - 2 ~ New ~
golden child
unfulfilled keys
lady malasuerte
lilly of the valley
love with a shot of distance

Jericho Brown
Odd Jobs
Vaccinated
Heart Condition
Track 1: Lush Life
Prayer of the Backhanded

Jericho Brown - 2 ~ New ~
'N'em
Riddle
Bullet Points
A Young Man
The Hammers

Carrie W. Clifford
God
Quest
Poetry
Together
The New Year

Chinua Achebe
1966
Flying
Answer
Lazarus
Vultures
Air Raid
Question
Love Cycle
The First Shot
Generation Gap
Mango Seedling
Their Idiot Song
Knowing Robs Us
Misunderstanding
A Wake for Okigbo
Pine Tree in Spring
Penalty of Godhead
Love Song (for Anna)
Beware, Soul Brother
Christmas in Biafra (1969)
Public Execution in Pictures
A Mother in a Refugee Camp

Clara Ann Thompson
Hope
Memorial Day
To My Dead Brother
Uncle Rube's Defense
Johnny's Pet Superstition

Would you like to submit a Poem? Click Here
Previous Page ( Part "6" ): Click Here
<----> SEND THIS PAGE TO A FRIEND! <---->