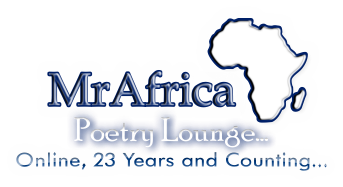 MrAfrica Poetry Lounge!
Famous Black Poets Section (Part 4)
Here you will find poetry written by famous people of African
American descent. The poetry here is vast in subject matters.
It speaks directly to the journey, challenges, love, triumphs,
and spirit of a people. Relax and joy your visit!
Miscellaneous Poems:
Click on the Links Below
Jean Toomer
People
Tell Me
Reapers
For M.W.
Conversion
Unsuspecting
Evening Song
The Lost Dancer
Portrait in Georgia
Her Lips Are Copper Wire

Banking Coal
Storm Ending
Seventh Street
Song of the Son
November Cotton Flower

Ida Rowland ~ New ~
Autumn
Our Heritage
Autumn Evening
Lines to a Friend
Wind among Leaves

Beatrice M. Murphy
Waste
Hatred
Release
The Parting

Virginia Houston
Query
Interim
Ecstasty
Fugit Amor
Class Room
Troubadour
Recapitulation

Jay Wright
Lundu
The Measure
What Is Good
The Homecoming Singer
Love in the Weather's Bells
The Cradle Logic of Autumn
The End of an Ethnic Dream
Meta-A and the A of Absolutes
The Healing Improvisation of Hair
Love in the Water, Love in the Stone

Michael S. Harper
Grandfather
Double Elegy
American History
Here Where Coltrane Is
Dear John, Dear Coltrane
Nightmare Begins Responsibility
Clan Meeting: Births and Nations: A Blood Song

Haki Madhubuti
Fear
Duke
destiny
Wynton
change-up
my brothers
blackwoman
"The B Network"
Recession Proof Sex
IS TRUTH LIBERATING?

James A. Emanuel
Emmett Till *
Wishes, For Alix
Michael Jackson
Bojangles And Jo
Four-Letter Word
Poet As Fisherman
A Fool For Evergreen
The Young Ones, Flip Side
I'm A Jazz Singer, She Replied
Louis Armstrong And Duke Ellington

George Moses Horton
False Weight
The Gospel Feast
A Meteor Flashing
On the Conversion of a Sister
Death of a Favorite Chambermaid

George Moses Horton - 2 ~ New ~
Lincoln Is Dead
The Southern Refugee
Like Brothers We Meet
On Liberty and Slavery
George Moses Horton, Myself

Eugene B. Redmond
The Eye in the Ceiling
A Kwansaba for Mother Richie
Lookingback, Jazzstained Jayne
A Tale Of Two Toms (Or Tom-Tom)
Consider Loneliness as These Things
Choreo-Empress' Leg-a-cy Lands on East Saint Earth, 2nd Take

Amiri Baraka
Ka'Ba
Wise I
Incident
Monday in B-Flat
Babylon Revisited
In Memory of Radio
Notes For a Speech
Balboa, the Entertainer
A Poem for Speculative Hipsters
Preface to a Twenty Volume Suicide Note

Legacy
Ancient Music
Political Poem
In the Funk World
Somebody Blew Up America

Arna Bontemps
Reconnaissance
God Give to Men
Southern Mansion
THE DAY-BREAKERS
Nocturne of the Wharves
A Black Man Talks of Reaping

Tupac Shakur
I Cry
Jada
Fallen Star
And 2Morrow
When Ure Hero Falls
Liberty Needs Glasses
Ambition Over Adversity
In The Depths of Solitude
In the Event of My Demise
The Rose that Grew from Concrete
Can You See the Pride in the Panther

Wanda Coleman
the ISM
Watching
Mastectomy
Bedtime Story
The Deuce of Cups
The California Crack
American Sonnet (35)
Nobody Wants To Know My Name
They Came Knocking On My Door At 7 A.M.
Sweet Mama Wanda Tells Fortunes For A Price

Marilyn Nelson
Dusting
Churchgoing
Minor Miracle
Daughters, 1900
Mama's Promise
The House on Moscow Street

Marilyn Nelson - 2 ~ New ~
1905
Crows
Weir Farm
Octopus Empire

Countee Cullen
Incident
The Wise
For a Poet
For A Lady
Yet Do I Marvel
Saturday's Child
The Loss of Love
Fruit of the Flower
Simon the Cyrenian Speaks
Youth Sings a Song of Rosebuds

Would you like to submit a Poem? Click Here
Next Page ( Part "5" ): Click Here
<----> SEND THIS PAGE TO A FRIEND! <---->