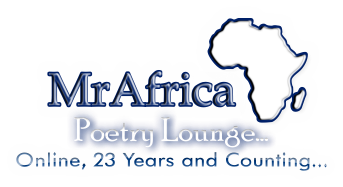 MrAfrica Poetry Lounge!
Famous Black Poets Section (Part 5)
Here you will find poetry written by famous people of African
American descent. The poetry here is vast in subject matters.
It speaks directly to the journey, challenges, love, triumphs,
and spirit of a people. Relax and joy your visit!
Miscellaneous Poems:
Click on the Links Below
Helene Johnson
Poem
Magalu
My Race
Invocation
To an Icicle
Trees at Night
Summer Matures
What do I care for Morning
Sonnet To A Negro In Harlem

Toni Morrison ~New ~
Eve Remembering
I Am Not Seaworthy
It Comes Unadorned
Someone Leans Near
The Perfect Ease of Grain

Grace Vera Postles
The Scar
In Winter
Moonlight
Sans Words
The Prisoner
Golden Sorrow
A Lighted Candle
The Blue Ridge Mts.

Gertrude P. McBrown
Lost
Flights
Unseen
Fire-Flies
Full Moon
Sunset Calm
Purple Dawn
Love Not Fame
Two Worshipers
Jehovah's Gesture

Tracy K. Smith
Dusk
Sci-Fi
The Good Life
Garden of Eden
Wade in the Water

Tracy K. Smith - 2
In Brazil
Mothership
I Don't Miss It
A Man's World
We Feel Now A Largeness Coming On

Melvin B. Tolson
Old Houses
The Town Fathers
The Unknown Soldier
An Ex-Judge at the Bar
The Dictionary of the Wolf

Edythe Mae Gordon
Tribute
Elysium
Worship
April Night
Young Love
Buried Deep
I Understand
Let Your Rays

Kalamu Ya Salaam
Love
(untitled)
Madpoet
Tasty Knees
HIWAY BLUES
We Say, Bechet
PA FERDINAND
Be About Beauty
i'm looking for a love
NTOZAKE SHANGE
NAMES, PLACES, US
Govern Yrself Accordingly
all that's black ain't brother
even death will not stop me from struggling
...AND RAISE BEAUTY TO ANOTHER LEVEL OF SWEETNESS

Gwendolyn Bennett
Hatred
Advice
Epitaph
Fantasy
Heritage
Nocturne
Purgation
Moon Tonight
To A Dark Girl
Street Lamps in Early Spring

Song
Secret
Quatrains
To Usward
Lines Written at the Grave of Alexandre Dumas

Cornelius Eady
Grief Bird
LEADBELLY
Nature Poem
Tubman's Rock
JEMIMA'S DO-RAG
Hardheaded Weather
HESITATION BLUES
RODNEY KING BLUES
BUCKWHEAT'S LAMENT
The Cab Driver Who Ripped Me Off

Manchild
Nina's Blues
I'm a Fool to Love You
Money Won't Change It (but time will take you on)
Photo of Miles Davis at Lennies-on-the-Turnpike, 1968

Elizabeth Alexander
Race
Blues
Peccant
Ladders
Emancipation
Autumn Passage
Stravinsky in L.A.
Praise Song for the Day
Ars Poetica #1,002: Rally
One Week Later in the Strange

Stray
Toomer
Equinox
Tending
The African Picnic

Carl Phillips
Hymn
Custom
Passing
Domestic
White Dog
Luna Moth
Somewhere Holy
A Kind of Meadow
Leda, After the Swan
Aubade: Some Peaches, After Storm

Audre Lorde
COAL
Power
Recreation
Sisters in Arms
A Woman Speaks
If You Come Softly
Who Said It Was Simple
Fantasy and Conversation
Father Son and Holy Ghost
Rooming Houses are Old Women

Hanging Fire
Rites of passage
THE OLD DAYS
A Litany for Survival
From the House of Yemanja

Dudley Randall
Luzon
Rabaul
Green Apples
Langston Blues
I Loved You Once
Ballad of Birmingham
"Booker T. and W.E.B."
A Poet Is Not a Jukebox
The Profile on the Pillow
On Getting A Natural (For Gwendolyn Brooks)

Derek Walcott
Blues
Fame
Parang
Codicil
The Fist
Sea Grapes
PENTECOST
Midsummer, Tobago
A Far Cry from Africa
A City's Death by Fire

Love After Love
Map of the New World
Bleecker Street, Summer
A Lesson for This Sunday
The Season of Phantasmal Peace

Robert Hayden
Soledad
Perseus
Full Moon
Witch Doctor
Monet's Waterlilies
Frederick Douglass
Those Winter Sundays
The Ballad of Nat Turner
El-hajj Malik El-shabazz (malcolm X)
Mourning Poem for the Queen of Sunday

Robert Hayden - 2
Tour 5
Names
Sphinx
The Web
The Rabbi
The Whipping
The Prisoners
Theory of Evil
Crispus Attucks
The Broken Dark
The Tattooed Man
Paul Laurence Dunbar
"As My Blood Was Drawn"
"Incense of the Lucky Virgin"
"'Mystery Boy' Looks for Kin in Nashville"

Robert Hayden - 6 ~New ~
Letter
Ice Storm
Double Feature
Traveling through Fog
Night, Death, Mississippi

Etheridge Knight
Haiku
PEACE
CELL SONG
As You Leave Me
Feeling Fucked Up
The Idea of Ancestry
Apology for Apostasy?
Dark Prophecy: I Sing Of Shine
FOR MALCOLM, A YEAR AFTER
THE WARDEN SAID TO ME THE OTHER DAY

Etheridge Knight - 2
GENESIS
MEMO #9
MEMO #43
ON THE YARD
COP-OUT SESSION
IT WAS A FUNKY DEAL
FOR LANGSTON HUGHES
REPORT TO THE MOTHER
HE SEES THROUGH STONE
FOR FRECKLE-FACED GERALD
And Tell Me Poet, Can Love Exist In Slavery?
FOR BLACK POETS WHO THINK OF SUICIDE
On Seeing The Black Male As 1# Sex Object In America
A POEM FOR MYSELF (or Blues for a Mississippi Black Boy)
On Watching Politicians Perform At Martin Luther King's America

Jayne Cortez
Poetry
SUMMIT
There It Is
MAKE IFA
Rose Solitude
In The Morning
I am New York City
Jazz Fan Looks Back
Under the Edge of February
PUSH BACK THE CATASTROPHES

Georgia Douglas Johnson
Wishes
Predjudice
Your World
Armageddon
The Suppliant
Common Dust
Calling Dreams

Georgia Douglas Johnson - 3
Moods
Brotherhood
Homing Braves

Would you like to submit a Poem? Click Here
Next Page ( Part "6" ): Click Here
<----> SEND THIS PAGE TO A FRIEND! <---->