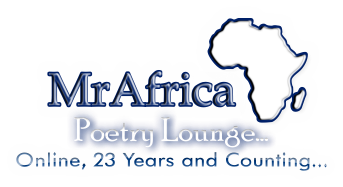 W
elcome to MrAfrica Poetry Lounge. Here you can indulge in poetry that is written by amateur and famous black poets from around the world. Established in 2001, we have had the pleasure of showcasing thousands of poets. Nearly 22 years later, our mission still is the same, as we continue to uplift another generation of poets and poetry lovers.
---
Site Update
...
G
ood Afternoon everyone. Fall is upon us, and with it comes the opportunity to discover poetry that will comfort the soul. With that beautiful intro, I'm glad to be showcasing a few returning famous poets. This sister needs no introduction; in 2022
Alicia Keys
is one of many singers who have embraced and had a relationship with poetry. I do wish that Mrs. Keys would release another poetry book, but until that happens, feel free to read over more of her old literature.
AK
black poems;
golden child
,
unfulfilled keys
,
lady malasuerte
,
lilly of the valley
, and
love with a shot of distance
. We are also delighted to post more of
Patricia Smith
work. This sister also can be found on stage. She's very active on the National scene, and routinely participating in poetry slams.
PS
black poems;
Medusa
,
Undertaker
,
Always in the Head
,
They Romp with Wooly Canines
, and
The Sun, Mad Envious, Just Wants the Moon
.
Influenced by a wide range of 20th-century poets, from W.B. Yeats to Countee Cullen this brother went on to become a professor and later penned the famous poem "Those Winter Sundays". Even today Robert Hayden lives on through poetry, and the thousands upon thousands of people whom he has inspired to pick up a pen. RH Black poetry; Tour 5, Names., Sphinx, The Web, The Rabbi, The Whipping, The Prisoners, Theory of Evil, Crispus Attucks, The Broken Dark, The Tattooed Man, Paul Laurence Dunbar, "As My Blood Was Drawn", "Incense of the Lucky Virgin", and "'Mystery Boy' Looks for Kin in Nashville"... Author of four books of poetry, and winner of numerous awards, Poet Tracy K. Smith is leaving her mark on literature. Part of this new generation of writers, this sister words continue to be felt by those who love this art-form. TKS black poetry; In Brazil, Mothership, I Don't Miss It, A Man's World, and We Feel Now A Largeness Coming On.
This poet is a prime example that one can become a better person after spending time in prison. While there Etheridge Knight expressed himself through poetry, and was able to capture prison experiences in an unprecedented way. Years later after being released he went on to release five books of poetry. EK black poems; GENESIS, MEMO #9, MEMO #43, ON THE YARD, COP-OUT SESSION, IT WAS A FUNKY DEAL, FOR LANGSTON HUGHES, REPORT TO THE MOTHER, HE SEES THROUGH STONE, FOR FRECKLE-FACED GERALD, And Tell Me Poet, Can Love Exist In Slavery?, FOR BLACK POETS WHO THINK OF SUICIDE, On Seeing The BlackMmale As 1# Sex Object In America, A POEM FOR MYSELF (or Blues for a Mississippi Black Boy), and On Watching Politicians Perform At Martin Luther King's America. With that it's nice to see more brothers sending poems our way. Over the years quite of few of them have went on to self publish books. Everett Lacey who has been writing for years, have a few poems one shall enjoy reading over. EL black poetry; PRETTY GIRL, AN INTRODUCTION, AFRICAN JOY JUICE II, "NOT YET 'FREE AT LAST"', and "THE WORLD IS A GHETTO". Can't forget our African brother Patrick K. Antwi. A Ghanaian by birth, this school teacher also has a passion for poetry. I want to encourage more of my sisters and brothers living on the continent of Africa to share their words via poetry with us. PKA black poetry; Nature, Sunrise, The Ant Hill, Hundred Percent, and Fruit of the Fathers, Sins of the Sons. We love giving new poets a platform; please feel free to send poetry so that we can share your pen can be shared with readers. As the seasons continue to change in the last quarter of the year, you can count on us to continue to supply you with poetry that feeds the soul. Have a nice day. Mr. Africa - November 1, 2022
---
G
ood afternoon everyone. To my delight the site continues to grow, and with that I only ask one favor of all. If you know of a famous poet we have yet to list, feel free to drop us a note. As you can see, the last few updates of the Famous Writers has added quite a few poets. This go around we have decided to feature UK based writer
Benjamin Zephaniah
. This brother is part of the Rastafari movement; his writings fall under a genre known as dub poetry;
Ageism
,
Cybersex
,
Tax Relief
,
Neighbours
,
No Problem
,
White Comedy
,
Parents Today
,
De Queen an I
,
City River Blues
,
Homeward Bound
,
Heckling Miss Lou
,
Walking Black Home
,
Save Our Sons (SOS)
,
The Angry Black Poet
, and
To Be Seen, To Be Done
. Benjamin continues to fight against racial prejudice and disrespectful attitudes in Great Britain; he is that voice, and pen, for Blacks who have no say so in society. This sister who is widely known for the Novel
Dessa Rose
, also happened to release a poetry book. Like so many intellectuals of the time, it seems
Sherley Anne Williams
never allowed her ink to run dry. You will see, after reading over the following pieces, that no matter the person, one goes through the motions. Yes indeed, that is part of life.
SAW
black poems;
Flo Show
,
I see my life
,
Say Hello to John
,
A Pavonine Truth
,
Listen to the drum
,
If he let us go now
,
The Peacock Song
,
Any Woman's Blues
,
This a Rap on Yo Do'
,
c/o Ambush c/o Mike
,
A Walk into the Soft Soft
,
Communion in a Small Room
,
For Ronald King Our Brother
,
Blues is Something to Think About
,
Lines between Seekonk and Fairhaven
, and
This Is a Sad-Ass Poem for a Black Woman, etc.
.
The Motherland has birthed so many greats, and I'm here sharing some of Nigerian novelist, poet, professor, and critic Chinua Achebe black poetry; 1966, Flying, Answer, Lazarus, Vultures, Air Raid, Question, Love Cycle, The First Shot, Generation Gap, Mango Seedling, Their Idiot Song, Knowing Robs Us, Misunderstanding, A Wake for Okigbo, Pine Tree in Spring, Penalty of Godhead, Love Song (for Anna), Beware, Soul Brother, Christmas in Biafra (1969), Public Execution in Pictures, and A Mother in a Refugee Camp. A man whose first novel "Things Fall Apart" is still the most widely read book in modern African literature. Such a character, and poet who just loved his people. Up next, the poetess Stormy Nyghts. If one is a lover of words, than do intake her flow; Attraction, Love Letter, ghetto reality, Dance With the Devil, and Solitude (Ode to Billie Holiday). I'm so happy to see my people picking up a pen. Do know, this art-form embraces every creed/race with love. Before I head out, we have Pauli Murry. A civil rights activist, feminist, and one of the first who had status to push for gender equality. The sister lived an interesting life, and also became the first African-American woman to be ordained as an Episcopal priest. If you get a chance, do look her up. PM black poems; Hate, Ruth, Words, For Pan, Tongues, Conquest, Prophecy, Nazarene, A Presence, Youth to Age, Without Name, Love in Wartime, Woman and Man, Dinner for Three, Harlem Riot, 1943, To the Oppressors, For Mack C. Parker, The Song of the Highway, To Poets Who Have Rebelled, and Mr. Roosevelt Regrets (DETROIT RIOT, 1943). Poetry is an art form that is always evolving just relevant in any period that it is read; may the poets continue to tell our story, and inform our perspective. Have a nice day. Mr. Africa - September 1, 2022
---
G
ood afternoon everyone. The seasons will be changing soon in weather, and life; poetry is a wonderful constant amidst change. On that note, the first poet I have for all, happens to be the late Pan-Africanist
W.E.B. Du Bois
. Not many realize this great intellectual also enjoyed writing poems. Have a few minutes, do go ahead and read over the following pieces:
SUEZ
,
Unrest
,
Untitled
,
STRIVING
,
Black Men
,
EL DORADO.
,
AVA! MARIA!
,
The Quadroon
,
GHANA CALLS
,
In God's Gardens
,
The Song of the Smoke
,
My Country 'Tis of Thee
,
THE WOMAN IN BLACK.
,
THE SONG OF AMERICA.
, and
A HYMN TO THE PEOPLES
. There is more
Gil Scott-Heron
poetry, as even in death, this man's words continue to educate and inspire generations of people.
GSH
black poems;
CANE
,
SPIRITS
,
BRIDGING
,
LADY'S SONG
,
IS THAT JAZZ?
,
THOUGHT OUT
,
THE NEW DEAL
,
PAINT IT BLACK
,
BLACK HISTORY
,
GIVE HER A CALL
,
TUSKEEGEE #626
,
PIECES OF A MAN
,
BILLY GREEN IS DEAD
, and
A TOAST TO THE PEOPLE
... To my delight, I keep finding more writers who experienced the Harlem Renaissance. One of those people happen to be
Mae V. Cowdery
. While in high school this brilliant poet also co-founded a literary Magazine, Black Opals. During the late 1920s, Mae established her reputation by being published in journals, magazines, and anthologies.
MVC
black poetry;
Goal
,
Lamps
,
Insatiate
,
Heritage
,
If I Must Know
,
The Young Voices Cry
,
Lines to a Sophisticate
, and
Some Hands Are Lovelier
.
Writer Ida Rowland was also a part of the movement. She was not only a poet, but a Distinguished educator who enjoyed teaching kids. This sister later, on in life, would establish a company which published books for Black Children. Enjoy reading over some of IR black poems; Autumn, Our Heritage, Autumn Evening, Lines to a Friend, and Wind among Leaves. The poet Edythe Mae Gordon also participated in the Harlem Renaissance; like some fellow peers, she organized an African-American literary group which would be known as, Saturday Evening Quill Club. She was also a brilliant storyteller. Subversion was published in 1928; it was listed among that year's distinguished stories by the O. Henry Award prize committee, which at the time rarely noticed works by non-white authors. Feel free to intake EMG words; Tribute, Elysium, Worship, April Night, Young Love, Buried Deep, I Understand, and Let Your Rays. The man, a genius who happens to be James Baldwin, still resonates within the literary community. Not one literature lover can claim to have never taken the time to engulf themselves this man words. One of the greatest writers of all time, I do encourage each one of you - to read line for line while viewing the following black poems; For A., YOUTH, For EARL, PARADISE, Imagination, Judgment Day, The darkest hour, Mirrors (for David), Black Girl Shouting, A Lover's Question, BALLAD (for Yoran), 3.00 a.m. (for David), Some days (for Paula), Guilt, Desire and Love, Song For The Shepherd Boy, Conundrum (on my birthday) (for Rico), and A lady like landscapes (for Simone Signoret). There is always a lot going on in the world; allow poetry to continue to be a light to your soul. Have a nice week. Mr. Africa - August 8, 2022
---
G
ood afternoon everyone. As we continue to enjoy summer celebrations that bring family together, poetry is always a welcomed addition. From the motherland Sierra Leonean poet
Gladys May Casely-Hayford
was a sister of many talents. She was a poet, dancer, and could speak multiple languages. She even for a brief time, lived here in the USA. One of the better known female poets during Harlem Renaissance, she inspired so many.
GSH
black poetry;
Poem
,
Lullaby
,
A Poem
,
Mammy
,
Nativity
,
Creation
,
Baby Cobina
,
The Serving Girl
, and bn
The Palm Wine Seller
. Then there is
Alvira Hazzard
, who was born in North Brookfield, Massachusetts. Few details can be known about this poet, but through her poetry, she seemed to have lived an interesting life.
AV
black poems;
Beyond
,
The Penitent
,
Predestination
, and
To My Grandmother
. Well,
Dorothy Vena Johnson
was an educator and poet based in Los Angeles, California. In 1939, the sister co-founded The League of Allied Arts, an African-American women's Arts organization. A true warrior, Dorothy always found time to pen poetry. Do enjoy intaking her words literally;
Jerked to God
,
Ode to Justice
, and
Crystal Shreds
.
Next, we have Beatrice M. Murphy. This poet is known for being the founder of the Negro Bibliographic and Research Center as well as the editor of its journal, "Bibliographic Survey: The Negro in Print". During this time, this sister enriched the lives of so many. BMM black poetry; Waste, Hatred, Release, and The Parting. On to Grace Vera Postles who was an active member, and serve as secretary for the poetry club: Saturday Evening Quill. Her poetry can be found in the club's journal from 1928-1930. Not much more can be found about this writer, but I for one have enjoyed reading over her work; The Scar, In Winter, Moonlight, Sans Words, The Prisoner, Golden Sorrow, A Lighted Candle, and The Blue Ridge Mts.. Now, I would like to introduce the poetess Tajamia Terry. The sister's flow is unique, as it's nice to see one create thy own style when it comes to writing. TJ black poems; frosted, Embrace, change fate, A girl with a Story, and why my heart cries. I'm calling upon all poets, step up and submit some of your poetry. Know that so many writers, started here, and have gone on to bigger and better things within literature world. Before I wrap this up, I'm delighted to share more of Esther Popel's work; Theft, Credo, Bagatelle, Ditch-Digger, Little Grey Leaves, Night Comes Walking, and Reach Down, Sweet Grass. This poet wrote and edited for magazines such as: The Crisis, the Journal of Negro Education, and Opportunity. It is an honor to be able to spend time with the literature of those that came before us, as they have shaped the writers of today. Through poetry we learn, are comforted, inspired, entertained, and uplifted. Have a wonderful literary day. Mr. Africa - July 4, 2022
---
G
ood afternoon everyone. Summer is in full swing, and it's a great time for family, sharing, and of course good poetry. This week poets will make you want to pick up a pen and start flowing. With that, there is Neo Soul Singer
Jill Scott
. Her music is universally loved, and poetry also has a piece of
JS
's heart. In 2005, she released a poetry book. It was well received by the masses, and it's great to be able to share some of her poems;
Life
,
Envy
,
Music
,
Words
,
Selfish
,
Radio Blues
,
We the People
,
A Poet's Home
,
Old School Lovin'
,
It's the Little Things
,
Dis Niggah (for Leslie)
,
Untitled #1 (Love Sucks)
,
Perms, Hot Combs, and Curlers
,
The Downfall of a North Philly Freak
, and
Young Buck Lovin' on the Kitchen Floor
. If you are feeling the vibe, do head over to Amazon and pick up a copy of;
"The Moments, the Minutes, the Hours: The Poetry of Jill Scott"
. Our second poet is
Nikky Finney
. Like many of the current greats, this talented writer is also a professor. She spent over 20 years at the University of Kentucky, and currently holds down the position of, Jr. Chair in Southern Letters and Literature at University of South Carolina.
NF
has been a mentor to many and has taken the time to uplift black creative writers with workshops in conjunction with Cave Canem - Home of Black Poetry. Enjoy reading over Nikky black poems;
Heirloom
,
I Feel Good
,
The Clitoris
,
The Aureole
,
O' Noblesse O'
,
Sign Language
,
The Afterbirth, 1931
,
The Girlfriend's Train
,
The Condoleezza Suite [Excerpt]
, and
The Lyric Theatre: Lyceum of Dreams
.
The first person to be named National Youth Poet Laureate Amanda Gorman, jumped onto the scene when she was chosen to recite a poem at the inauguration of President Joe Biden. Since then, the sister has won a few awards: the Genius Grant from OZY Media, as well as recognition from Scholastic Inc., YoungArts, the Glamour magazine College Women of the Year Award, Poets & Writers Barnes & Noble Writers for Writers Award, and the Webby Awards. Take the time to view AM black poetry; LIFE, & SO, CALL US, ALARUM, CLOSURE, COMPASS, GOOD GRIEF, SCHOOL'S OUT, THE SHALLOWS, ARBORESCENT I, SHIP'S MANIFEST, THE HILL WE CLIMB, THE UNORDINARY WORLD, PRACTICE MAKES PEOPLE, and THERE'S NO POWER LIKE HOME. Before I get out of here, I have to big ups my poetic brother Jonathan Grayson. His poetry seems to be on the personal tip, as more men need not be afraid to show emotion. JG poetic pieces; Poison by Culture, She Stole My Innocence, I thought you were a friend, A Mind is a Terrible Thing to Waste, and You Hate Me for no Apparent Reason. Well Juneteenth is around the corner. I want all to take time to research this special holiday. It's important to know why this nation is finally recognizing it, and understand as a community we must do our part. Never allow this country to forget and continue to teach our youth the real history of America. So, with that, stay bless my fellow poets. Mr. Africa - June 9, 2022
---
G
ood afternoon everyone. Like so many, I have been enjoying mother nature, as it's always nice to spend time outside of the house. Simply walking around your neighborhood can do wonders for ones' health and outlook on life. With that being said, in this update I'll be introducing more female poets who were part of the Harlem Renaissance. To my surprise, there are so many who flew under the radar; by me digging deeper into that period I'm now able to share their poetry with all. First up, we have
Anita Scott Coleman
. Never residing in Harlem, NY, her work speaks volume of what many writers inspired to be during that time. This talented sister published stories, essays, and poems which appeared in national magazines such as: The Messenger, Opportunity, Journal of Negro Life, The Half-Century Magazine, The Competitor, and The Crisis.
ASC
black poems;
Wisdom
,
Antidote
,
Wash Day
,
Black Baby
,
Portraiture
,
Black Faces
,
The Colorist
,
Negro Laughter
,
Of Growing Older
, and
On Being Taken for Granted
. Then there is
Alice E. Furlong
. Unlike many of her peers, there is little known about this writer other than being one of the founding members of the Saturday Evening Quill in Boston, A group of Black writers. You will see that Alice's theme in regards to poems usually reflected a broken heart.
AEF
black poetry;
Suicide
,
Awaiting
,
Possession
,
Destruction
,
Unfulfillment
,
Laurel Leaves
,
The Sea's Warning
,
Riches and Poverty
, and
When Love Is Laid Away
. Like her fellow poets,
Virginia Houston
seem to shine during the Harlem Renaissance. She was published quite often and could be found in The Crisis and Opportunity from 1929-1931.
VH
black poems;
Query
,
Interim
,
Ecstasty
,
Fugit Amor
,
Class Room
,
Troubadour
, and
Recapitulation
.
A playwright, educator, actress, poet and stage director, Gertrude P. McBrown was a woman determine to leave an imprint on this world. The poetess taught dramatic arts at North Carolina Agricultural and Technical College, and regularly was featured in the various magazines and literary journals such as: Popular Educator, Opportunity, International Poetry Magazine, Black Opals, Phylon, and Negro Women's World. Some of GPM black poetry; Lost, Flights, Unseen, Fire-Flies, Full Moon, Sunset Calm, Purple Dawn, Love Not Fame, Two Worshipers, and Jehovah's Gesture. Many of you have heard of Cave Canem, the literature organization Founded by Toi Derricotte and Cornelius Eady. For nearly 26 years the two have enriched and uplifted African-American poets. For more info, regarding their mission check out the official website; CC - A Home For Black Poetry (------
Now on to the late Ted Joans. To my surprise, I never realize Jazz poetry was so deep and glad to see poets acknowledging this music genre. The likes of Amiri Baraka, Sterling Brown, and Langston Hughes have penned such pieces. Hope you enjoy reading over TJ jazz infused flow; THE TRUTH, "The Sax Bit", ONE BLUE NOTE, JAZZ IS MY RELIGION, and I, Too, at the Beginning. After all these years one of the site fan favorites have returned. Sister Anesa Laneigh has 7 new poems for all to intake; Essence of Jazz, Soulmate-4-Life, Love Blossomed, Black Superman, Here's to Our Forever, Nothing...Just Growth, and Love's Mental Alchemy. Also, too my delight, she recently released a poetry book entitled; "Broken Silence: A Woman's Roar" (------ Joining the crowd Denzel James decided to submit a few pieces; Regrets, Love People, Hurt and Healed, I Want To Dream, and The Next Time I See You. Me and this brother go back a few years; I never knew he was into this art-form like that. Just like our poetic sister, he too has published a poetry book: "The Cycle: A Journey Through Love", etc. (------ Let's support our Authors!! Wrapping this up, like I have said many times, do continue to uplift the next generation of black poets. Have a bless day. Mr. Africa - May 21, 2022
---
---
Our Sponsor
: Earn A
Paralegal Certificate Online
at WTI.
Our Friend
:
Professional Essay Writing Service
SmartWritingService.