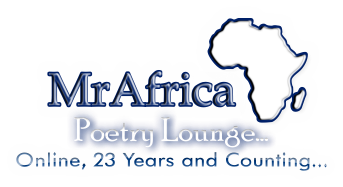 W
elcome to MrAfrica Poetry Lounge. Here you can indulge in poetry that is written by amateur and famous black poets from around the world. Established in 2001, we have had the pleasure of showcasing thousands of poets. Nearly 22 years later, our mission still is the same, as we continue to uplift another generation of poets and poetry lovers.
---
Site Update
...
G
ood afternoon, everyone. Like so many, I'm excited to embrace
2022
. It's the start of a New Year; finally, after all these years, we have unveiled a new design. The design may look familiar, as it's similar to well-known encyclopedia site
Wikipedia
. With that, let's all enjoy the new poetry. First there is
Arthur Lewin
. This Jamaican born poet, kindly sent us
5
poems:
WOKE
,
SHADOW OF A DOUBT
,
WORLDS WITHOUT END
,
I've Seen Cities That Don't Exist
, and
NOW THAT YOU KNOW THE STORY
... This brother also happens to be an accomplished professor; it's always nice to see our people working in the educational sector. There is also
Ntozake Shange
. This sister truly touched so many, as a black feminist, and one who proudly pushed the Black Power agenda.
NS
poems;
i. Mood Indigo
,
who am i thinkin of
,
for my dead & loved ones
,
[lady in red] "at 4:30 AM"
, and
its happenin/ but you dont know abt it
. Many of you may not have heard of
Frances E.W. Harper
. This woman was born free in 1825; later in years she would become a teacher, public speaker, and part of the abolishing slavery movement. Do enjoy more of her poetry;
Learning to Read
,
The Slave Mother
,
The Slave Auction
,
A Double Standard
, and
Songs for the People
. Can't forget
Audre Lorde
. Some would say she was before her time, as this sister wore so many Titles: feminist, womanist, librarian, and civil rights activist. Her poems allow one to view things from various perspectives;
Hanging Fire
,
Rites of passage
,
THE OLD DAYS
,
A Litany for Survival
, and
From the House of Yemanja
. Before I go, I want to encourage all to leave a message via the new
guestbook
. Let us know how long you been visiting this place, and if we have posted any of your work over the years. Have a nice day.
Mr. Africa - January 3, 2022
---
G
ood afternoon everyone. As a poet, it warms my heart to come across poets who paved the way for this generation. One of those people happen to be
Effie Lee Newsome
. This talented writer devoted her life to enriching the lives of our youth. She wrote poetry for children, and a little-known fact, was indeed part of the Harlem Renaissance.
ELN
poems;
Bats
,
Sunset
,
TURKEY
,
IN WINTER
,
Morning Light
,
Peacock Feather
,
The Bronze Legacy
,
O Autumn, Autumn!
,
The Bird in the Cage
,
GLADIOLA GARDEN
, and
O Sea, That Knowest Thy Strength
... Our second poet happens to be
Al Young
. Like so many of the greats before, the brother is no longer with us. However, his poetry still lives on and can be experienced by all. Like so many of his peers, Al had an extensive career as a professor at such universities like U.C. Berkeley, U.C. Santa Cruz, U.C. Davis, Bowling Green State University, the University of Washington, and the University of Michigan among others.
AL
poems;
For Poets
,
HOT OCTOBER
, and
Key to the Dollar Store
... With that, I want to encourage all to continue to visit on daily basis. My fellow writers, never allow the ink to run dry in your pen. Have a bless day.
Mr. Africa - November 6, 2021
---
G
ood afternoon everyone. It's been chilly around these parts. Like many of you, getting ready for Halloween, I know the local kids in your area shall be
Trick-or-treating
. With that, it's nice to see the site grow on a weekly basis. I enjoy adding new content;
'3'
famous poets have return. First there is
Marcus Garvey
, this man loved his people; he had a desired to connect all Africans. No matter which continent one resided on he wanted this unity. He also happens to be a talented writer...
MG
poems;
Get Up And Do
,
The Black Woman
,
Africa For The Africans
,
Hail! United States of Africa
, and
A Black Man's Speech to a White Man in America
... Next we have
Etheridge Knight
, who seems to be overlooked when many talk about the great black poets of the past. His flow was unique, so do enjoy;
Haiku
,
PEACE
,
Apology for Apostasy?
,
FOR MALCOLM, A YEAR AFTER
, and
THE WARDEN SAID TO ME THE OTHER DAY
... This brother tragically lost his life at such a young age.
Henry Dumas
, an upcoming writer, was love and praised by his peers, such as Toni Morrison. Take the time to read over this poets work;
Rite
,
Thought
,
America
,
Love Song
,
Son of Msippi
,
mosaic harlem
,
Knock on Wood
,
Island within Island
, and
Knees of a Natural Man
... Before I go, would like for all to sign up for our '
NEW
' newsletter;
MrAfrica
(------- If you would like to stay up to date, with what's going on within the poetry world, or just be notified when
MrAfrica Poetry Lounge
is updated, do show some luv... Until then, have a nice day.
Mr. Africa - October 29, 2021
---
G
ood afternoon, everyone. This will be a small update, but do know, I have fully embraced poetry again. That means poems will be added on a weekly basis, so do visit often. I'm also looking to bring back our newsletter. So much is going on within the poetic world, and I would like to keep everything up to date. I have many plans for this site, as 2022 shall indeed be a magical year. Enough of that, let me re-introduce two
Harlem Renaissance
poets. First there is
Anne Spencer
who worked as a librarian, and teacher. The sister was dedicated to teaching our youth, and literally bringing black life to the masses through poetry...
AS
Poems;
1975
,
Taboo
,
Dunbar
,
He Said
,
Translation
,
Earth, I thank you
, and
The Eyes of My Regret
. There was also
Angelina W. Grimke
who was born into a prominent family of abolitionists and civil-rights activists. Majority of her work seems to touch base on nature and a somewhat yearning for love. Feel free to take the time and read over
AG
poems;
Vigil
,
Death
,
El Beso
,
Fragment
,
To Joseph Lee
,
Littl Grey Dreams
, and
Hushed by the Hands Of Sleep
... As I wrap this up, I have one last request: my fellow poets don't be shy, step up to the plate and submit a few poems. Did you know many poets who are now self-published authors, first got introduce to the masses via MrAfrica Poetry Lounge? Shall you be the next?
-Smile-
Have a nice day.
Mr. Africa - October 9, 2021
---
---