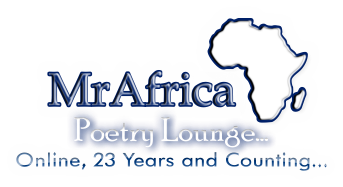 MrAfrica Poetry Lounge!
Black Male Poets Section (Part 5)
Here you will find poems that are written by Famous and
up incoming African American Men. There is a wealth of
cultural understanding coming through the poetry of these men.
They speak on various subjects from the vantage point of
being a Black Man in America. Enjoy a poetic journey on your visit.
Miscellaneous Poems:
Click on the Links Below
Phil Montgomery
LOVE DENIED
WOMEN OF GOD
THE AWAKENING
Freedom To Die For

Jonathan Grayson
Poison by Culture
She Stole My Innocence
I thought you were a friend
A Mind is a Terrible Thing to Waste
You Hate Me for no Apparent Reason

Patrick K. Antwi ~ New ~
Nature
Sunrise
The Ant Hill
Hundred Percent
Fruit of the Fathers, Sins of the Sons

Robert Wilson-Cruse
Fed Up
The Ring
Why I Write
Southern Belle
Will I Ever Love Again

LaRon Coleman
MAN
REFRAIN
VISIBLE HOPE
HORRIBLE DREAM
NO REMORSE, NO TEARS

T. Aramis Barron
"Starlight"
"City Nights"
"Quiet, Slender Keys"
"Negro - the Dirty Color"
"In So Few Words: La Petite Fille"

Blak Lincoln
We are!
My Muse
when i say
"My Struggle"
"Me,Beautiful?"
"it starts with a question"
The hottest turn so COLD

Roosevelt "Enigma" Fontaine Jr.
24
Love
Three
Reality
typical dude?

Da'corius Crockett
Hershey's kiss
SPANISH LOVING
STROKING IT SLOWLY
"CHAINED TO THE BED"
ALONE WITH MY THOUGHTS

John A. Smith
AS I
THE SKIN I'M IN
ANTI-BELLUM WORLD
MIRROR, PLEASE BE FORGIVING
Little Black Feet In The White House

Leon Williams, II
A Special Lady
From One to Ten
You Are My Rose
Your Time Will Come
If I Could Change The World

Hebert Logerie
Discrete Love
I am a rhymer
Modern racism
The political polls
Why cry foul now?
Missing You Tonight
Bama, let them criticize
Our Beautiful Children..
Who's white? Who's black?
Obama, you have a big family
Man proposes, God disposes.

Kommon Knowledge
Enemy ME
Soul Sisters
Faces of Death
Wannabe Black Panther
Color My Revolution Black

Omdia Memwequa
Untitled
Live Life
A Fools Lost
Something To Say
An Essence Of Omdia
Winter Thoughts Of You

DarkSalsero
I'm Back
REBORN
LONGING
One Mans Cry
Who's Brave Enough to take a Chance?

Ryan Jones
I miss you
(UNTITLED)
Love of My Life.
MY LIFE FORCE
Sleepless Nights.
AT NIGHT I DREAM...
THE NEXT TIME AROUND
She Keep on Passin me by.
A MESSAGE TO MY PEOPLE
THE ALLURE (HIGH OFF THE LIFE)

Ryan Jones - 2
Faith...
Getting Lost
She's Like...
Time Flies.
Gone... So Gone.

Anthony Allen
Misfit
Michela
One Love
Resurrection
Words of Prophets

Raymond Fulton
A Man
Hard Times
Wake up call
The tables turn
Words of Encouragement

SoulPoet
"Foreplay"
"Two soulz"
"Pasionate kiss"
"Pretty, ebony toez"
"Honey-sucked toez"

Padmore Enyonam Agbemabiese
It's Time
TO ASHES
YOUR NAME
HOME AGAIN
To Our Heroes
A Song of Hope
A SONG FOR ADONU

Master Nappy Beard
Let it BE!!!!
I'm Walking
Sitting on my front porch
I do until I can't Do no more.
"From 150th street down to 133rd street (Chicago)"

Beniot D. Green Jr.
LOVE LAND
SISTER WHY?
MIRROR, MIRROR
EDUCATED BROTHA
SWEET CHOCOLATE
REALITY OR FANTASY

Damali
Forever
Welcome to my world
REAL MEN DON'T CRY
I know that we just met..
Confessions of an 18 year old child

Marcus Mitchell
She's So Fine!
A Crisply, Folded Flag
The Feeling that the Heart Feels
The Diamonds are a Woman's Best Friends
The Plight of the Spotted, Speckled, Injured Blue Jay

Would you like to submit a Poem? Click Here
Previous Page ( Part "4" ): Click Here
<----> SEND THIS PAGE TO A FRIEND! <---->