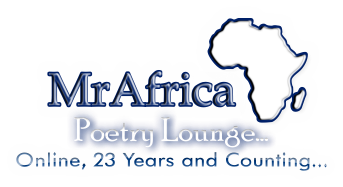 MrAfrica Poetry Lounge!
Black Female Poets Section (Part 4)
You have just entered into the "Ladies" Section. Here you will
find dynamic poetry penned by African American Women. These
women speak of love, life, and living through the eyes of an
African American woman. The beauty of the poetry is it can speak
to everyone. Enjoy your visit!
Miscellaneous Poems:
Click on the Links Below
Alyce
Voices
Untitled
Black & Blue
Just A Thought
A JuJu Of My Own

Taja Gordon
I AM
Death Rose
I Wanna Be
STOP BEING
Never Met You
Da Life Of Da Puff
WHY AM I SO BLUE
I CAN'T FIGURE IT OUT
Forbidden Me, Forbidden You
THE LAND OF LONELINESS

Emma Joan ~ New ~
I Am.
...Cycle
Repressed
The Last Time
Can You See Me?

Blaque Byrd
Teaser
Folklore
Time Travel
Perfectly Flawed
Complexity (New Rules to the Old Game)

Maleeka M.
Poetry
Losing Baby
He's close to me
I needed (Revised)
Faith Lost but Found

Eileen P.
Dear H
Haiku-Ache
He used me
Love's Hangover
The Minority Cycle

Poetiq Tika
INSANITY
Built Me Strong
MS. RIGHT NOW
My Letter To Hip Hop
They Charge Me With A Crime

Shanel Robinson
Untitled
The Flow
Who am I you say?
Have You Ever Felt.
Not Typical, Rather Unique

Jobaby
Mystery
Just To Black
There goes Ms. Lucy
Slave man's Mentality
Where Do They All Come From

Crystal Holmes
Struggling
The Way I Feel
Life in the Poor Lane
Without you I'm like...
I Held You in my Arms
My Smile is Losing Weight

Nubianpoet
Misty Blue
Crossroads
House Vs Field
There Is A River
Stormy Weather
Happy To Be Nappy

Aye C.
Third eye crying
Communications
Queens and Kings
Lack of knowledge
CHOICES, CHOICES

Teddy
Speak
Let Me
Write to Me
How Beautiful
Everyday Drug

Shanequa Stevenson
Katrina
Lost souls
Between Friends
When a scorned woman heals
SUNSHINE TO THE BLIND MAN

PostwayGurl
Life
Your Game
Ring - I - Do
Spiritual Love
A Piece Of Me

Nicole Kidwell
Dream
By You
"Let Me"
A lover's Air
I Can't Do This
"Grand Opening"
Time's a Wasting
Heart's Broken Pieces
"You Know You Want To"
The Truth Behind My Eyes

Alicia D. Anderson
King...
The wrong life
A letter to love
A crisp fall breeze
Hershey coated Man....
Where are you my Dream.

Christina Fayne
Music
Tears
My Therapy
Making Love
Good Old Days

Maxine Foster
Ras I
Blk king
i wuz thinkin
black leaders
Call me what u may

Lori Valmond
Rain
Words.
Anguish
Lori Valmond
My AlPhAbEt.
So Many Chances
It's not me you see.
To you.My First "Boo"
One day. He shall open his gates
I've been played, but I've learned the game

Jacquii Cooke
Amen?
Thoughts
About Joshua
Weather Forecast
Share Me A Dream
Today v. Tomorrow
Come With Me, Stay
Tribulation Shackles
Freedom and the Inmate
Caress Me (kisses on my face)

PurplePassion
Liars
Then and Now
A woman in love
Confused? Very.
Beautiful Black Man

Poetiq Majestiq
WAITED
BLACK 100%
TROPICAL DAYDREAM
BREAKUP AKA FREEDOM

The Ebony Enchantress
What's Going On?
Waiting and Wishing
Crush, Crushing, Crushes

Josephine Dixon Banks
Political Picnic
It's A Guy Thing
Weaponized Freedom
De-Mockery of Democracy
What the World needs Now
Weapons of Mass Destruction
The Bill, For The Bill of Rights
Down Home Black History Blues
CRUCIFIXION OF DISPOSABLE PEOPLE
WWII Wide-World Of Intellectual Illiteracy WWII

Josephine Dixon Banks - 3
In The Line of Duty
Our Black politicians
MURDER FOR THE CAUSE
THE WAY FAMILIES USED TO BE
EARNED OUR MONEY THE OLD FASHIONED WAY

Lynette Jefferies
"tired"
"colors"
"one life"
"trusting"
"perception"
"some thing"
"to be in love"
"why so mean"
"get out my face"
"heaven on earth"

Listen
?????
"words"
"poetry"
"identity"
"butterflies"
"conditions"
Did you Forget
A Dream to Adore
Why do I love Thee

Lynette Jefferies - 5
Empty
Changes
This Race
No Affection
Love Is The Essence

AQueensLady
"...And So..."
Simply.....What I want?....

Sheavonne A. Harris
Thirsty
Question
You Made Me
You will know
A strong back
It takes a strong woman

U-Nique
A Dream
That Bitch
My Lover/Pusher Man

Oracle
Unspoken
Mr. Chocolate Guy

Greeneyes
WHY?
True Kings
Black Panther
Thinking of You
My Eternal Love
The Realm Of Inner Light

CtSunkiss
"Protection"
"Mis-spelled Valentines"
"Chapters of Deciphered Lies"
"MENTAL FORCE V.S. PHYSCIAL ATTRACTION"

Nellie Green
Freedom
Aunt Lizza

Would you like to submit a Poem? Click Here
Next Page ( Part "5" ): Click Here
<----> SEND THIS PAGE TO A FRIEND! <---->